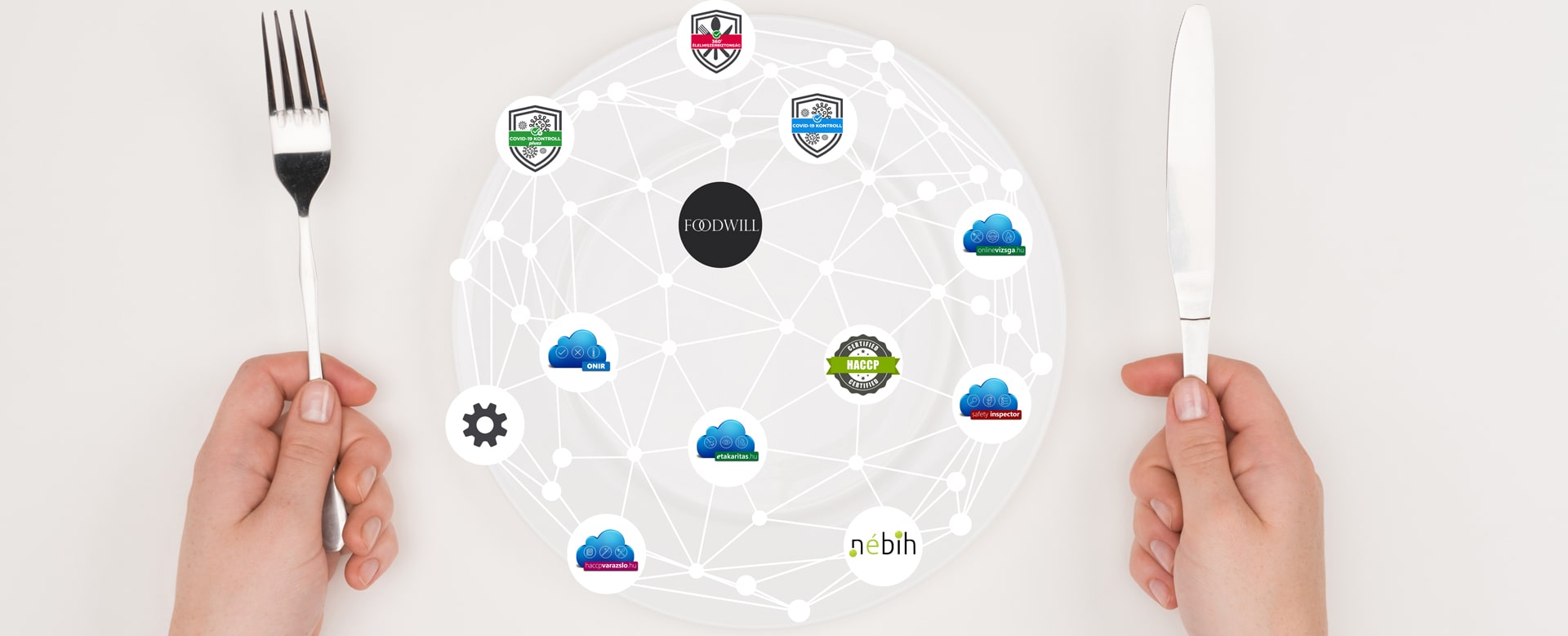 Download
A letöltéshez add meg az email címed és mi elküldjük emailben a letöltő linket.
Higiéniai ellenőrzés / önellenőrzés
Rozsdamentes munkafelület (konyha)
Rozsdamentes munkafelület (húselőkészítő)
Rozsdamentes munkafelület (zöldség előkészítő)
Rozsdamentes munkafelület (hidegkonyha)
Rozsdamentes munkafelület (cukrászat)
Üzemi edényzet (konyha)
Üzemi edényzet (cukrászat)
Vágódeszka (késztermék-hidegkonyha)
Jéggép belső jéggel érintkező felület
Jégszedő kanál
Fogyasztói eszköz felület (tányér/evőeszköz/pohár)
Hűtőrács (késztermék-hidegkonyha)
Hűtőrács (késztermék-cukrászat)
Kilincs, ajtónyitó gomb (zöldség előkészítő)
Kilincs, ajtónyitó gomb (hidegkonyha)
Kilincs, ajtónyitó gomb (cukrászat)
Kilincs, ajtónyitó gomb (dolgozói mosdóhelyiség)
Italadagoló automata fej
Sörcsap
Melegentartó pult
Hidegentartó pult
Ételmintás zacskó, a konyha területén
Csomagolóanyag
Szervizeszköz (szedőkanál/villa/kés)
Dolgozói kéz
Dolgozói tiszta munkaruha
Gumikesztyű
Vendégszobák
Fogyasztói tiszta eszközök (pohár, evőeszköz, tányér)
Mikrohullámú sütő (apartman esetében)
Mosdóhelyiség (kilincs, WC öblítő gomb, csaptelep)
Távirányító
Szellőző rendszer
Catering
Fogyasztói eszközök
Szervizeszközök (szedőkanál, villa, kések)
Szállítóeszközök (gambro láda, szállítójármű)
Szellőző rendszer
Személyi higiénia
Wellness
Kínáló pultok (melegen tartók, hűtőpultok)
Szervizeszközök (szedőkanál, villa, kések)
Italadagolók (termosz, post mix…stb.)
Tiszta törülköző
Tiszta köpeny
Masszázs ágy
Wellness ágy
Mosdóhelyiség (kilincs, WC öblítő gomb, csaptelep)
Ülő felület
Szellőző rendszer
Foodwill
Concept
Regulation - Training - Audit - Laboratory - Supervision
FOODWILL paradigm shift
Having gone through hundreds of food safety audits, we think that the overcomplicated HACCP systems, which are indecipherable for the operators, do not serve any purpose and only cause damage. We have understood why training without practice is no good. We have revealed the serious shortcomings and mistakes hiding behind administrative compliance, and how they can put the future of business and the safety of consumers in jeopardy. So, we have decided to rethink everything. We have simplified the overcomplicated regulatory systems. We provide training combining theory and practice after knowledge assessment. The measures we propose after revealing the shortcomings during the audit are based on our experience gained, from operation practice.
'Re-design' of HACCP & self-review systems
According to our surveys, 4 out of 10 concerned managers read their own HACCP handbooks but 0 out of 10 could actually list all the critical points. Therefore, the current HACCP systems do not or just partly serve their regulatory purpose. For many business owners HACCP means no more than additional paperwork.
Reasons why:

Handbooks are complicated for the sake of being complicated; they contain commonplaces and business owners do not get clear instructions or training as to how to use them. HACCP systems to serve their real regulatory purpose and not just be present on an administrative level in operation, we must 'reconstruct' them, by focusing on their intended purpose: reaching a real and controlled food safety level.
Regulation
HACCP – Self-Rrview – COVID-19 Control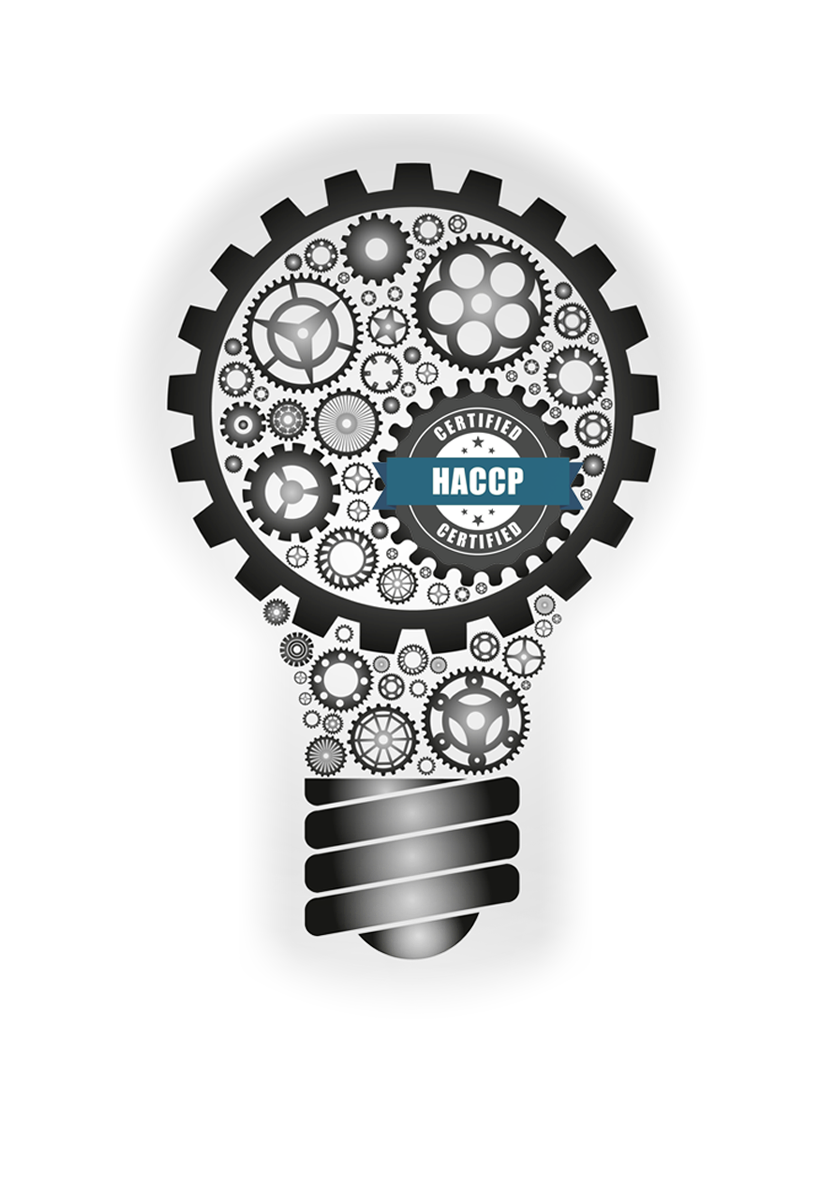 HACCP handbook and realisation revisited
(EC) No 852/2004
Every regulation is worth as much as the extent to which people actually keep it. An HACCP regulation only makes sense if:
It does away with commonplaces (tailored to different units and processes)
It can determine (through on-site assessment) the necessary control aspects stemming from the uniqueness of a respective unit
Which all result in:


+

Fewer control aspects (easing the administrative burden)


+

Actual supervision when it comes to critical operation processes (real safety)
that the operator can understand and can put in practice (system transfer qualifies as consultation)
that it complies with statutory regulations and authority expectations (in cooperation with authorities since 28 May 2020)
that it includes a review plan (the introduced system is reviewed within 6 months as part of an audit)
That is why we do not introduce systems following a phone-based assessment. The HACCP or self-review system is handed over after the establishment, on site and after detailed discussion of the control points.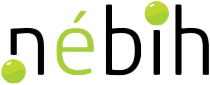 Self-review system
(28/2017. (V.30.) by the Minister of Agriculture
Pursuant to the decree entering into force on 1 January 2018, all food business owners are required to introduce and operate a self-review system. The aim of self-review is for the business owner to be able to assess and certify his/her food safety procedures with objective methods.
We always create self-review plans individually and after on-site consultation and inspection so:

+
Only necessary sampling points are determined (lower laboratory costs)
+
properly selected sampling points are suitable for objective representation of the unit's control level and practice
+
we propose measures for shortcomings in control
+
samples are examined in our own labs (better price, faster results)
The authority's risk classification of food businesses can be changed
Pursuant to the self-review decree, the business may sign a contract with the National Food Chain Safety Office. The authority receives the self-review logs of those units which have given their consent to data transfer. Data provision is done through the authority's digital channel called ONIR (pursuant to the strategic cooperation deal signed on 28 May 2020).
INTERCONTINENTAL BUDAPEST
Követhető és mérhető a pozitív változás a konyhában. Évente négyszer kérek auditot, mint kiegészítő szolgáltatást, ami részletes, mindenre kiterjedő riportot ad a pillanatnyi helyzetről.

Így nyugodt vagyok, mert tudom jó irányba haladunk, biztonságos konyhát vezetek és ez bármikor ellenőrizhető. Ha kérdésem merül fel az élelmiszerbiztonsággal kapcsolatban a FOODWILL mögött, támogató és velem együtt gondolkodó csapat segítségére számíthatok. Ez az, ami még inkább egyedivé teszi ezt a céget.
COVID-19 CONTROL certification program
The pandemic caused a massive trust deficit in the target public especially when it comes to places and services where a lot of people gather in small, confined places.
This is exactly why it is crucial for the HORECA sector's economic profitability and survival to strengthen the consumers' trust.
The certification programme assures the customer of a uniform and safe operation throughout the entirety of the hospitality sector, which abates the fear of spending time in public and social places, and restores customer confidence.
Certification fee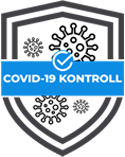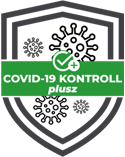 covidkontroll.hu
Certification fee

The first certification is free of charge. Only the lab material costs (HUF 5000-10000) and the call-out fee must be paid.


Apply for the certification programme
Covid-19 control
our Certyfication programme
Short description of our certification programme:
Aim, requirements, validity, level of certification.
Download
Covid-19 control
handbook
The handbook helps you prepare for safe re-opening as well as for operation during the pandemic.
Covid-19 control
checklist
The checklist contains all the aspects we check during the certification programme.
Training
HACCP – SELF-REVIEW – COVID-19 – CLEANING – ALLERGEN
(Re)forming the food safety perspective
Instead of pushing material knowledge, our training programme aims to emphasise practice where we shed light on causal relationships and take a practical, step-by-step approach in teaching good hygienic practices, which we might even teach on a position-by-position basis.
Training process
(1) Theory (interactive)
(2) Critical control points (CCP) and control points (CP) of the unit
(3) Issues revealed by the audit – necessary measures
(4) Knowledge test
(5) Practical training on a position-by-position basis (based on the audit and/or need)
Topics
Basic and advanced level HACCP
Cleaning and disinfecting practices
COVID-19 Control
Allergens
ONIR system
Our online-training website will be launched in September 2020 where tutorial videos will be available free of charge and on a position or process basis, helping employees learn about the safe steps of the respective working process. As a result, the employee may learn the necessary practical knowledge before starting to work. Thanks to the knowledge test, you can check how prepared your employees are from a practical and a theoretical point of view. Participation in the sessions is recorded with the help of attendance sheets. If someone passes an exam, they will get a certificate containing their name.

Planned courses
Basic HACCP training
HACCP emeltszintű képzés
Food allergy and food intolerance
Cleaning and disinfecting practices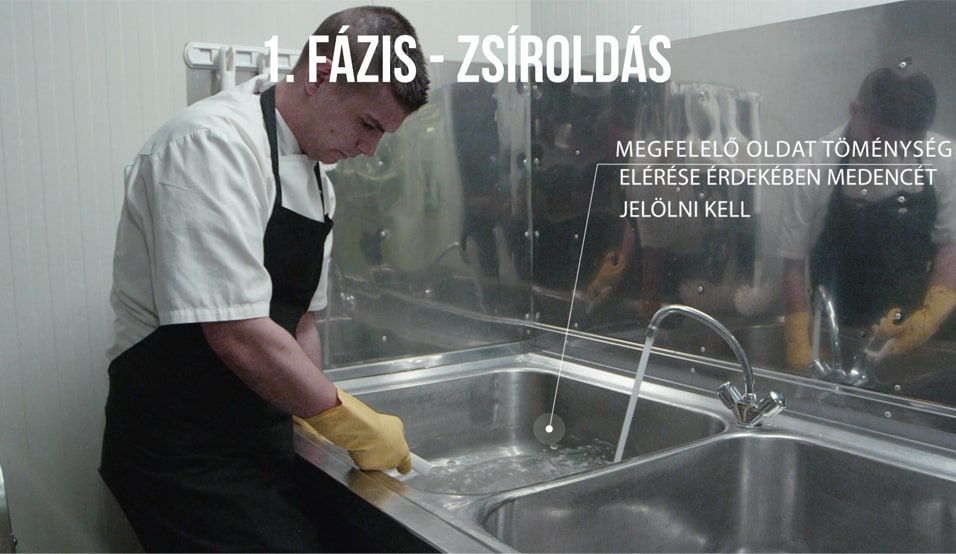 FOOD SAFETY

CERTIFICATION AUDIT
Target audits – certifications
(1) 360-degree Food safety audit

The aim of the audit is to provide a comprehensive assessment of the food safety situation and level taking all parameters into account. Our inspection processes and assessment system are standardised, making them easily comparable with industrial practices. The assessment aspects contain the statutory minimum requirements (authority checklists), the necessary and recommended operation requirements and practices based on the principle of proportionality. The assessment matrix determines the food safety level and certification of the unit by weighting these aspects during the assessment.
(2) Self-review audit

We mainly check the compliance of processes and internal regulations during the audit using objective methods (measurements and samplings). We check product tracking, specialised storage and the efficiency of critical point inspections. With measuring devices, we also check such points which are out of the control scope so we can find potential weakness in food safety system.
(3) Cleaning audit

The hygienic compliance of surfaces (kitchen area, guest area, public places, rooms, consumer tools) is essential in determining the unit's safety level. During the audit, we carry out inspections that are capable of detecting even microbiological or chemical residues. We check the cleaning and disinfecting instructions and how they are implemented.
(4) Supplier audit

We compiled the supplier assessment checklists by taking the buyer's interest into consideration. We pay special attention to personal hygiene, the microbiological examination of raw materials, semi-finished goods and finished goods, and to product storage and shipping conditions. The result is a risk factor number which expresses the extent of risk of cooperation.
(5) COVID-19 CONTROL

The aim of our certification programme is to measure the fulfilment of all criteria in the operation that the National Public Health Center (NNK), the National Food Chain Safety Office (NÉBIH) and the World Health Organization require. The recommendations of the major domestic sectoral organisations, such as those of the Hungarian Tourism Agency (MTÜ) and the Hungarian Hotel & Restaurant Association (MSZÉSZ) have also been taken into account. During the certification process, we test for COVID-19 and check the disinfection efficiency of surfaces and consumer tools.
Target audits – with a Safety Inspector and eTakarítás (eCleaning) app
Advantages of the Safety Inspector audit app developed by us:
Standardised assessment
sending an automatic and immediate warning to the customer in the case of a critical error (e-mail with attached pics)
audit record ready within 24 hours thanks to automatic reporting
verified documentation (pictures, time stamps)
Advantages of the eCleaning certification system we developed ourselves:
Real-time traceability of cleaning processes
verified (with pictures and time stamp) and confirmed execution of services
assessment of cleaning tasks, automatic notification feature
GPS-based localisation
Cleaning time measurement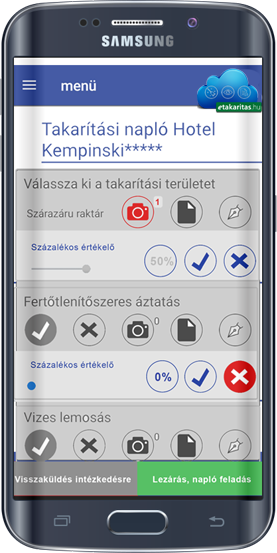 MICROBIOLOGICAL

LABORATORY
Our lab services
Problem space

When ordering lab services, the lab service provider requires the customer to precisely determine the subject and purpose of the inspection. Therefore, customers must know what pathogens may be present at different phases of operation and with what probability so that they can specify what lab tests to run. This, however, is an unrealistic expectation.
The dispatched samplers are typically not prepared to have an overall picture of the risk factors and relationships of hazards caused by hotels, restaurants, manufacturing processes, used raw materials or building design.
Consequently, the collected samples may not be suitable for adequate representation of the microbiological safety level of the respective unit.

Solution

During the audits, we have the opportunity to shed light on the points where we can assume that either the infrastructure or the practice makes an inspection necessary. In this way, the customer will not get a representative picture from the sampling, but the interpretation of the results with suggestions for action.
Tests
Pathogen-specific tests
Salmonella spp. number
Lysteria spp. number
E.coli (O157:H7) number
Coliform number
Enterobacteriaceae number

Bacilus cereus number
Pseudomonas aeruginosa number
Microba number
Yeast and mold number
Allergen tests
Mandula
Beta-Lactoglobulin
Cazein
Cashew nut
Brazil nut
Coconut
Crustaceans
Egg white
Fish
Gluten

Hazelnut
Lupin
Lysozyme
Milk
Mustard
Peanut
Pistachio
Sesame seed
Soy
Walnut
ONIR - eTAKARÍTÁS - SAFTY INSPECTOR - ONLINEVIZSGA
Control over processes
The last element of our FOODWILL concept is process monitoring. For this purpose, we developed target systems that can monitor the entirety of the operation process in a verified and efficient way, at any time, even remotely.
ONIR - the first online HACCP logging and monitoring system
Faster administrative processes

Time spent doing paperwork can be reduced by up to 80%.

Guaranteed control at critical points

By mandatory photo-taking at checkpoints, it can be ensured that processes are not just administered but actually controlled.

More authentic administration

Time stamps, coordinate marking, photo uploads and digital signature all make for a more authentic documentation.

Monitoring system

Our system keeps monitoring the logged values. It sends a warning if a check has been missed; it alerts the responsible manager if values are critical and also makes suggestions as to how to proceed.

Task traceability

The tasks arising from monitoring the unit can be assigned to a user within the unit, but an e-mail can be sent outside the unit too. Deadlines can be assigned to tasks which our system monitors and it sends a notification if a task has been performed or missed.

Cooling signal transmitter

We developed our own cooling temperature transmitter which does not require the redesign or installation of costly cooling equipment. Our wireless transmitters can be simple to set up, fast and cost-effective; their quantity can be grown flexibly. Critical values of temperature monitoring are sent as text message, e-mail or push message.

QR-code-based product tracking system

Product labelling is a major administrative burden for all businesses. The QR-code-based tracking module of the ONIR system was developed to ease this burden. The device can print the product labels with the necessary information by just one click after connecting with a wireless QR-code printer.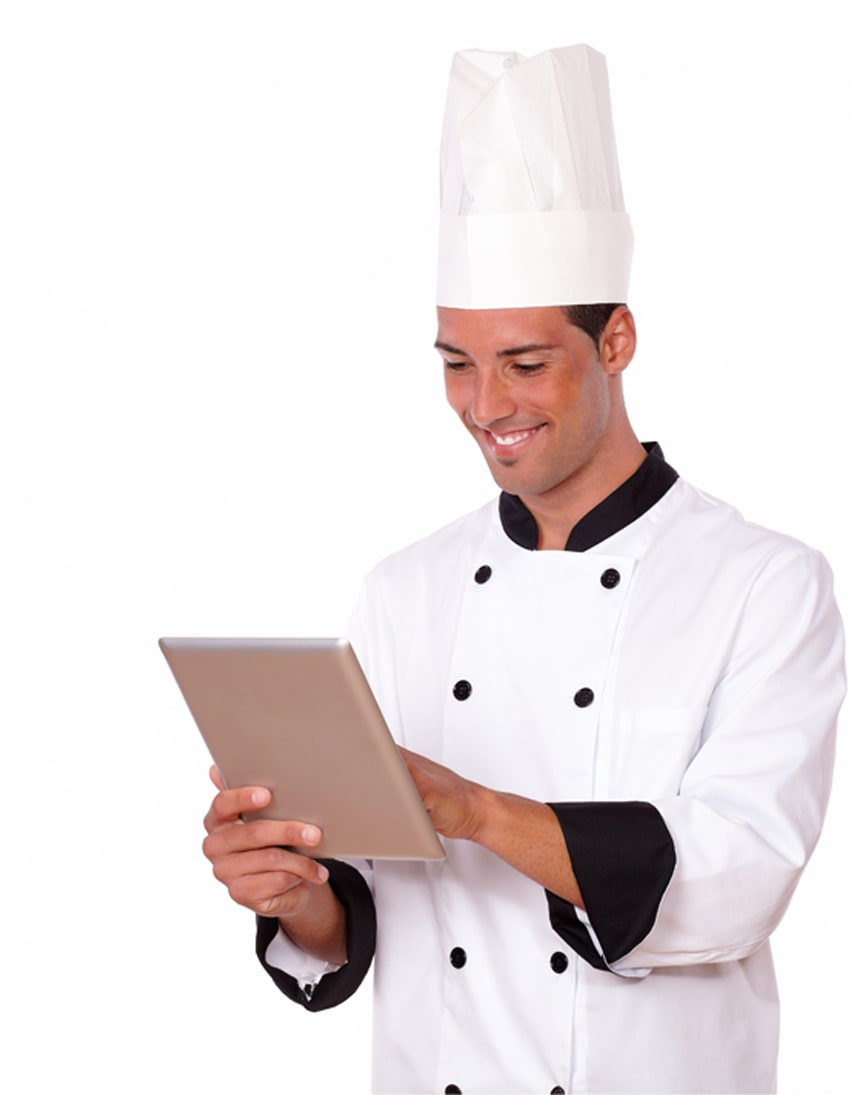 eCleaning – remote monitoring throughout the whole cleaning process
Process control

Our system represents the processes by adapting to the special requirements of a unit starting with the administration of cleaning tasks finished to supervision, to the customer's certificate of completion.

System features
GPS-based positioning
QR-code based location identification - cleaning task list linked with ID-d location
taking pictures verifying cleaning
Cleaning time measurement
storing device IMEI numbers
Automated functions
notifying the supervisor automatically after cleaning has been finished
notifying the verifier after the supervisor's confirmation who is in charge of the site and assesses the quality of cleaning
measuring the time needed for cleaning
sending notifications if cleaning was missed or failed
Task management
our system can perform management, monitoring and logging of tasks arising from processes
can be assigned to users but an e-mail can be sent too with photo attachment and deadline
sending notification before deadline and sending e-mail after it
More authentic administration

Time stamp, coordinate marking, photo upload and digital signature render documentation more authentic.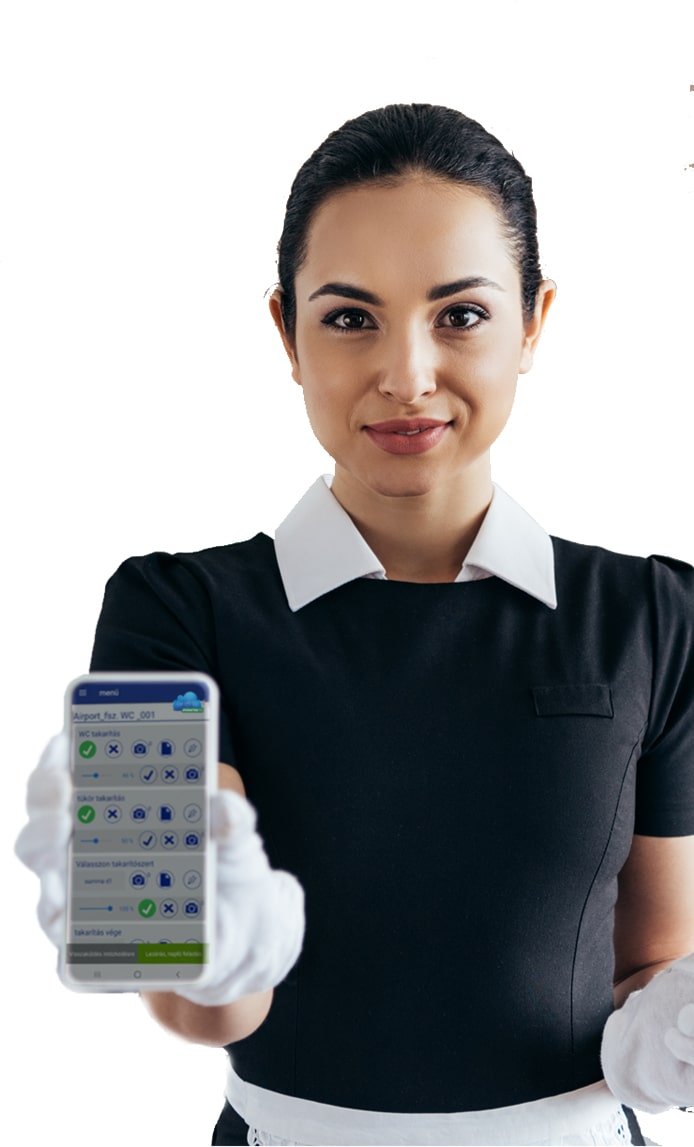 Safety Inspector - audit documentation system
Reviewed audit at the push of a button

By using the Safety Inspector, we set out to do no less than to implement an automatic reporting system without the need to edit in such a way that it can be incorporated into a standardised reporting system (by means of labelling). Technically it means that the system generates a certified report after closing the audit, which used to take hours to edit. This way, it can notify the concerned party in real time about the report results.
Editable error list - with assigned weighting
automatic notification sent to the customer in the case of critical errors
errors can be marked in the pictures
simple user interface
photo records can be kept fast
Érdeklődök a szolgáltatás iránt
Your personal data: